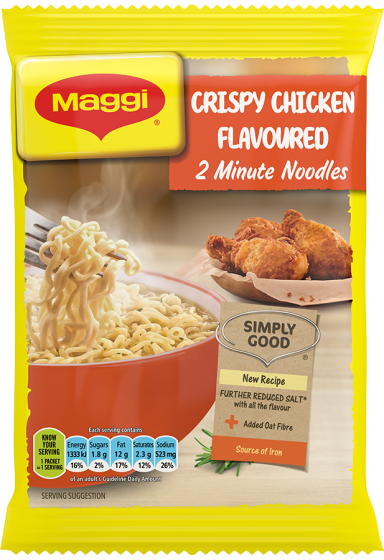 MAGGI 2-Minute Noodles, Crispy Chicken 73g
Whether your family enjoys them after school, at work or at home, MAGGI 2-Minute noodles are delicious and easy to make.This convenient meal is available in seven different flavours: Chicken, Beef, Durban Curry, Cheese, Crispy Chicken, Boerewors and Steak & Chops. MAGGI 2-Minute Noodles have a number of benefits; they are fortified with Iron which helps to promote good brain development, and oat fibre which promotes digestive health. MAGGI 2-Minute Noodles are also made with high quality ingredients like Sunflower Seed oil which is low in saturated fats, as well as premium wheat flour to ensure a tasty and healthy meal you and your family will enjoy. MAGGI's delicious taste lies in the fine blend of spices and herbs found inside the tastemaker sachet. MAGGI 2-Minute Noodles are an excellent meal by themselves, and can also be enjoyed with a stir fry, eggs or any other topping of choice.
Noodles: [Wheat Flour (gluten), Vegetable Oil (Sunflower Seed, Palm Fruit, TBHQ), Oat Fibre (1.2%), Potassium Salt, Salt, Stabilisers, Ferric Pyrophosphate, Riboflavin]. Tastemaker: [Brown Sugar, Wheat Flour (gluten), Flavour Enhancer (Monosodium Glutamate), Flavouring, Salt, Potassium Salt, Corn Starch, (Oregano, Parsley, Thyme), Citric Acid, Oat Fibre, Riboflavin, Ferric Pyrophosphate].
More Information
| | | |
| --- | --- | --- |
| | Per 100ml | Per Serving |
| Energy | 1826kJ | 1333kJ |
| Protein | 10g | 7.3g |
| Carbohydrate | 57g | 42g |
| of which Total Sugar | 2.5g | 1.8g |
| Total Fat | 16.4g | 12g |
| of which saturated | 3.1g | 2.3g |
| Dietary Fibre | 3.8g | 2.8g |
| Total Sodium | 716mg | 523mg |
| Iron | 4.7mg | 3.4mg |
| | | |
| --- | --- | --- |
| Wheat (gluten) | yes | - |
| Sulphur dioxide | yes | - |
| Eggs | yes | May contain |
| Cow's Milk | yes | May contain |
| Celery | yes | May contain |
| Soya | yes | May contain |
| Sesame | yes | May contain |
| Mustard | yes | May contain |
Yes - according to the recipe with the addition
No - according to the recipe without the addition
n / a - no information
MAGGI 2-Minute Noodles are delicious and easy to prepare. Made with Sunflower Seed oil which is low in saturated fats. Added oat Fibre. Fortified with Iron. New recipe, with reduced salt yet still full of flavour. Great for you to enjoy with your whole family